Duluth Small Business Emergency Fund
This program is closed.
Funded By: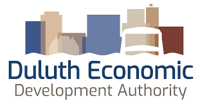 Overview
The Duluth Economic Development Authority (DEDA) has provided initial funding to the Entrepreneur Fund to create the Duluth Small Business Emergency Fund (DSBEF), a partially forgivable loan program to support struggling small business owners in Duluth, MN through the COVID-19 crisis.
In order to qualify for this program, businesses must demonstrate that it was directly and adversely affected by the COVID19 peacetime emergency declaration pursuant to Minnesota Governor Walz's Emergency Executive Order 20-01 and subsequent Executive Orders. Small businesses are also required to have claimed all applicable private insurance and utilized all other sources of applicable assistance available from other private Federal and State sources.
Funding for this program is limited.
---
Terms
0.5% Interest
No principal and interest payments required for the first 6 months.
Minimum $2,000 and maximum $20,000
Loan terms up to 5 years
Up to 25% loan forgiveness if the business returns to operating in the community at substantially the same levels within two years following loan disbursement and operates for 12 months at that level.
---
Timeline
Applications open Wednesday, May 20

Applications close Friday, May 22

Any applications received after this deadline will not be considered.
---
Application Process
This program is now closed.
---
Eligibility
Business must be based in the City of Duluth, MN.
Business's employees must primarily work within the City of Duluth, MN.
The borrower must demonstrate that the need for the loan is primarily the impact of the COVID-19 emergency and that the amount of the loan is necessary to maintain financial viability and be accompanied by documentation supporting that determination.
The business must have operated long enough to demonstrate financial viability.
---
Questions?
If you have questions regarding this program, please submit those via our Contact Form and we will be in touch as soon as possible.